The requested software / document is no longer marketed by Saia-Burgess Controls AG and without technical support. It is an older software version which can be operated only on certain now no longer commercially available products.
PG5 2.2 New features
This page contains the principal new features from PG5 2.2 and is an abstract from the document "What's new in PG5 2.2".
The file can be download on the section below.
Documentation
What's new in PG5 2.2
PG5 2.1 User's guide
PG5 2.2/2.3 User's guide
System Catalogue : Software
New Features PG5 2.2 FUPLA
In this video we explain the new features of PG5 2.2 FUPLA
Additional Documentation (Manuals, Workshops) can be found on the Controls Suite DVD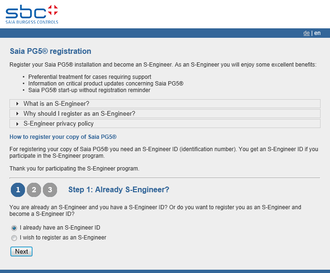 User licensing and developer registration
PG5 licensing
In order to use PG5 version 2.2, a new 'USER.KEY' file is needed.
The key file from V2.1, V2.0 or V1.4 cannot be used. However, you can run V2.2 as a demonstration version for 90 days without a key file. The 'USER.KEY' file is available from your Saia representative.
This key file registers your Company and enables the features of the PG5 which are needed.
PG5 user registration
Since PG5 V2.1 we have introduced registration for individual PG5 developers, in addition to the existing company registration. The PG5 user registration is done with the file 'REGISTRATION.KEY'
The same 'REGISTRATION.KEY' used in PG5 2.1 can be used also in PG5 2.2
When the PG5 first opens, you will be asked to register yourself as a PG5 User.

A PG5 user is entitled to free software updates, free technical support, and other benefits.

Demonstration version must complete the PG5 user registration before the PG5 can be used.

It means that PG5 V2.2 with a demo key will not run without having a valid user registration.

Licensed users, with a valid 'USER.KEY' file, can skip the developer registration indefinitely.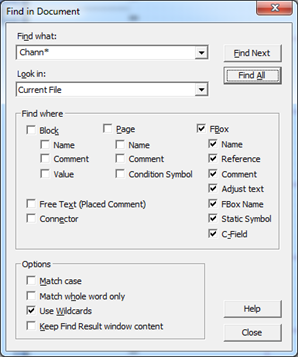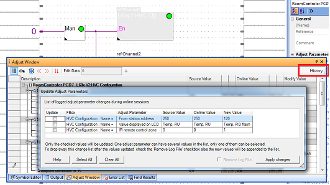 Improvements of Fupla
New internal structure
Fupla internal structure has been completely redesign in order to improve the performance when opening a file, when exporting or importing pages, when adding or removing pages and when applying find and replace operations.
The old Fupla structure was using temporary files that caused speed issues during various operations. The new structure is based on a model defined in RAM. This significantly improves performance and provides better consistency of all information contained in the Fupla file.
Undo/Redo
The Undo / Redo feature has been improved. All performed actions are now supported by the undo/redo like, for example:
On the graphical page:


Add/remove FBoxes, connectors, connections, bus, probes, and comments.
Move FBoxes, connectors, connections.
Define symbol in connector.
Copy FBox(es), connector(s), copy of multiple elements.
Replace FBox.
Update FBox(es).

In the 'Page Navigator':


Add / delete page(s).
Move pages.
Group/ungroup pages.
Import pages.

In the ''Properties' windows:


Define FBox name, reference and comment.
Set adjust parameters.

Page edition and graphical interface
The edition of a Fupla page has been modified for an easier and quicker programming.

A new routing algorithm has been implemented.
A visual assistant has been implemented in order to facilitate the drawing of the connections.
Moving connection lines has been improve and give now a lot more flexibility.
In order to improve the clarity of the page, the size of the empty side connectors has been reduced
It is possible to move multiple elements at the same time.
Copy/paste includes all connected elements.
It is possible to replace an FBox directly on the grid, without deleting it previously.
It is possible to insert an FBox on one or several existing connection lines.
It is now possible to define the probe in edit mode, and not only in online mode.

FBox Selector window
The search function on the FBox Selector window to quickly find the required FBox has been improved.

Find / Find and Replace
'Find' and 'Find and Replace' feature has been improved with the possibility to find and replace the following elements:

Page or block condition symbols – 'Condition Symbol'.
Adjust parameter values – 'Adjust Value'.

Properties Window
The 'Properties' window handles now multi selection of FBoxes, of pages and blocks.
Options
The number of options available in the 'Options' window has been reduced in order to include only the most useful one.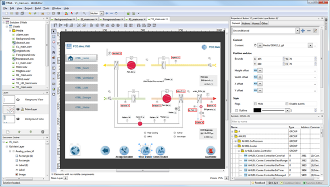 Web Editor 8.0
Web Editor 8.0 has been completely rewritten with the goal of providing a simpler, yet powerful editor to facilitate engineering and maintaining small and big HMI projects in a more efficient way.
Multipage templates
One or more views can be included in a template and then easily inserted into a project.

Extensions in the download options
Possibility to download the web project to multiple targets.

Support for SVG pictures
SVG format - Scalable Vector Graphics - is now supported.
Pictures in SVG format are only used at design time in the web-editor.
When the project is compiled, the images are converted into GIF.

Rotation of picture
It is now possible to rotate pictures by defining an angle.

Run Button
The 'Run' button allows in one click to test the HMI project without download the files into the PCD.

Improvements:

on the 'Cross Reference' window

in the Document Outline window
Extensions in the users management window

New web templates
Web templates for alarm management - 'Alarming', for graphical data visualization - 'Trending' and for user management have been completely reworked. They are available in Web Editor 8.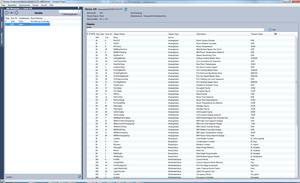 BACnet explorer 'BACeye'
The new BACnet explorer 'BACeye' provides an overview in a BACnet network. 'BACeye' can be
connected to any BACnet network for easy analysis and switching and for testing events and alarms.
BACnet networks
With the BACnet Who-Is/I-Am services, devices in the network can be conveniently identified and an image of the device properties and objects can be read in 'BACeye'. A detailed display of all objects allows access to the object properties.
EDE files
Generate EDE files quickly and easily. The EDE file (Engineering Data Exchange) is a format for a BACnet data point list specified by BACnet Interest Group Europe (BIG-EU).
Monitoring list
The monitoring list displays the most important properties of the selected objects. The objects can be compiled from the same or from different devices.
Alarms
All objects are displayed together with their status information (Status_Flags). Users can of course filter and search for status functions at any time.
Schedules
BACnet calendar and schedule objects can be conveniently displayed and edited with 'BACeye'.
The weekly program (Weekly Schedule) and the Exception Schedule can be edited separately.
The combined display enables an overview of the actual effective value. The Weekly Schedule and Exception Schedule can be edited separately. The combined display enables an overview of the actual effective schedules.
Installation
The installation package of 'BACeye' is available on the PG5 Suite DVD, under the following path:
'<DVD drive>:\PG5 Stand Alone\Bacnet\SBCBACeyeSetup.exe'
License
'BACeye' is licensed and requires a separated license as the PG5 license.
Please contact your Saia Burgess Controls sales office or representative for price and ordering information.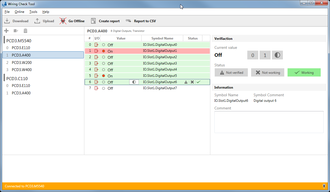 Wiring Check Tool
A new tool for the verification of inputs and outputs named 'Wiring Check tool' has been developed.
This tool is intended for technicians and electricians who must check the connections inside an electrical cabinet or the connections of the final installation upon commissioning.
This tool is easy to use and doesn't require any PG5 knowledge.
The test results can be logged in a report.
Improvements on the Device Configurator
New devices
The following devices have been integrated into the Device Configurator:
- PCD1.M2220-C15: E-Line CPU with 2 slots for IO or communication modules.
- PCD2.M4160: CPU with 4 slots for IO or communication modules.
- PCD2.M4560 : CPU with 4 slots for IO or communication modules and connector for extension
modules.
Modified IP configuration for PCD3.M6860
The Ethernet configuration of the PCD3.M6860 (2 x Ethernet) has been modified according the firmware capabilities. It means that the 'Default Gateway' and 'Access Control List' properties are common to the Ethernet port ETH 1 and ETH 2 and are displayed under the category 'Common ETH 1 and ETH 2 TCP/IP Parameters'.
Other improvements
FBox libraries


New FTP Client FBox library

Update of different F-box family (Exact details are visible in the " Whats new " document)



HTTP Downloader: alternative IP address
When the user program has to be downloaded via HTTP through a router - for example when using a VPN connection, it is necessary to enter an IP address that is different from the target PCD for the download. In the 'HTTP Downloader' dialog, available from the 'Download via HTTP/FTP…' command, under the 'Online' menu of the Project Manager, you can now enter an alternative IP address



SBC.Net Web-Connect

The SComm version that has to be used can be specified in the Web-Connect configuration.

In Web-Connect, when defining a station with HTTP Direct as connection type, it is now possible to enter the host name instead of the IP address.