On a PCD3.M6860 it's possible to use BACnet on the Ethernet port ETH1 and/or on ETH2?
FAQ #102031
Yes it's possible to use BACnet on both ports ETH1 or ETH2 of the PCD3.M6860.
In PG5 it's possible to activate at the same time BACnet on ETH1 and ETH2 but we strongly recommend to use/activate BACnet only on one of the two Ethernet ports to avoid a bad behavior on BACnet.
The activation and selection of the used Ethernet port for BACnet communication on the PCD3.M6860 is done in PG5 2.2 or PG5 2.3 in the device configurator.
On the properties of the PCD7.R562 BACnet card it's possible to define which Ethernet port should be used for the BACnet communication.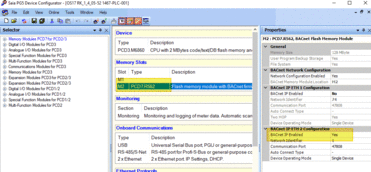 On the PG5 BACnet Configurator, the Data Link must be de-activated on the Data Link configuration menu.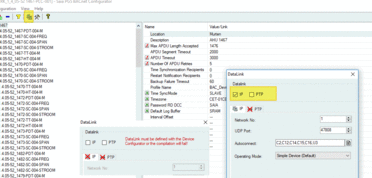 This feature is available for BACnet revision 14 and revision 9.
Categories
PCD3
PCD3 / _Firmware Classic
Communication / BACnet
PG5 2.2
PG5 2.3
Last update: 26.06.2019 08:33
First release: 26.06.2019 08:33
Views: 2