New firmware version names for Saia PCD® COSinus systems (a.bb.cc)
FAQ #100741
In order to simplify the interpretation of firmware versions and to avoid confusion regarding implemented features and bug fixes in different firmware versions, a new firmware version format for Saia PCD® COSinus based systems will be introduced.
Arguments for the new format
The new firmware version naming allows a clear and easy comparison between the different versions and their implemented features (PCD type specific) and bug fixes.
Questions like "Why is the Alarming functionality of the PCD3 Web Server implemented in firmware version $31 but not in version 031? - They both do have the same number..." should be past (however, if you're interested in the answer, please refer to FAQ100176)
Format description
The new firmware version name does consist of a major version, a branch version and a minor version separated by a dot (.).
Note that the prefix characters "0", "$" or "#" are no longer used in this notation.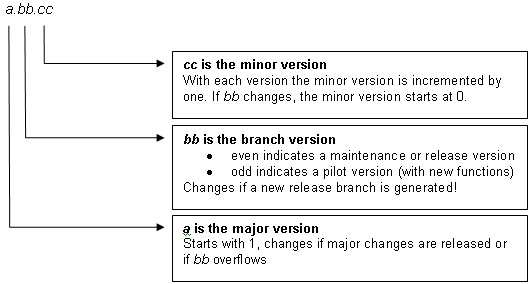 Concerned systems
The new firmware version format is applied to the systems based on Saia PCD® COSinus firmware (Classic and xx7). These are
PCD1.M2xxx
PCD2.M48x
PCD2.M5xxx
PCD3.Mxxxx
PCD7.D4xx (MB Panels)
While the firmware names for the MB Panels and PCD1.M2xxx do have this format from beginning, it was introduced on the PCD3 and PCD2.M480 systems with the firmware version after 03B.
Version flow example
Below an example for a version flow. If e.g. a bug is corrected in the version 1.06.01, also version 1.07.02 and all following 1.06.xx versions do/will have this correction implemented.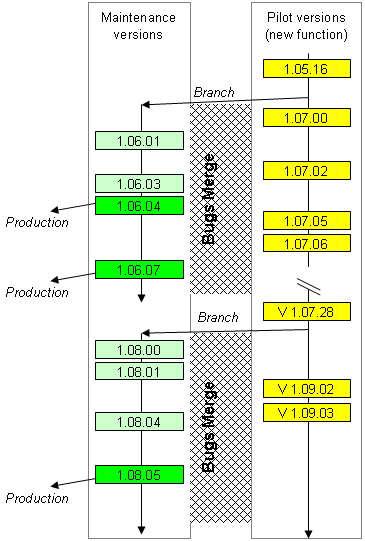 Version types
Released beta- or maintenance versions (equivalent to the current "Bxx" or "#xx" versions).
Released Production versions (equivalent to the current "0xx" versions): These versions are introduced in the production.
New function versions (equivalent to the current "$xx" versions).
Compatibility with PG5
The new firmware names are fully supported by PG5 V 1.4.200: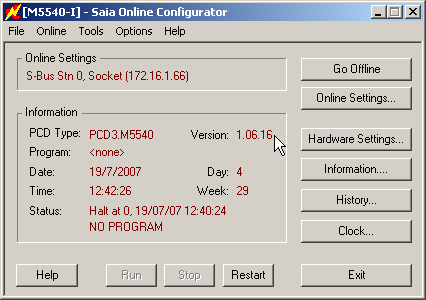 Previous versions of PG5 will only show the first three digits of the firmware version (e.g. "106" instead of "1.06.08"). The full firmware version can always be read by displaying byte F0F0 in the "Online Debugger" (type DYF0F0 ):


Categories
PCD2 / _Firmware Classic
PCD2 / _Firmware xx7
PCD3 / _Firmware Classic
PCD3 / _Firmware xx7
PG5 1.x
PCD7 / D4xx (MB Panel)
Last update: 01.06.2015 01:28
First release: 19.07.2007 09:28
Views: 54783