On a PCD7.D5xxxWTA010 why a warning message appear at the beginning of a restore from a factory image?
FAQ #102004
Displays which left the factory by the beginning of November 2016, were shipped with a new equipped "black" SD Card. This new "black" SD Card does not offer the exactly same amount of bytes as the old "blue" one.
Because of easy maintenance of the system, the operating system for PCD7.D51xxWTA010 is located on the SD Card of the device. To set back the operating system to factory default, the application "easyImageWIN" is used to recover a complete system image on the SD Card.
IMPORTANT: Do not remove the SD Card in case of connected power supply.
Do not power on the device in case no SD Card is present in the system!
In case you get a warning that the selected image file does not match to the destination drive, you have probably used the wrong basic image for the SD Card. In this case you should not continue with the restore process (see picture below).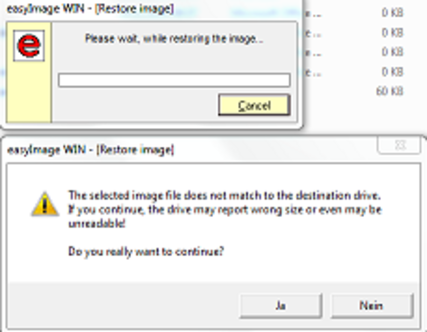 Solution:
Check the color of the SD Card, which was shipped with your device and select the correct image file.
The memory layout of the SD Card is different between "black" and "blue". You can also detect the type of SD Card comparing the available with the help of the software easyImageWIN. The "black" SD-Card offers 1.91 GB, the "blue" SD Card offers 1.92 GB (see picture below).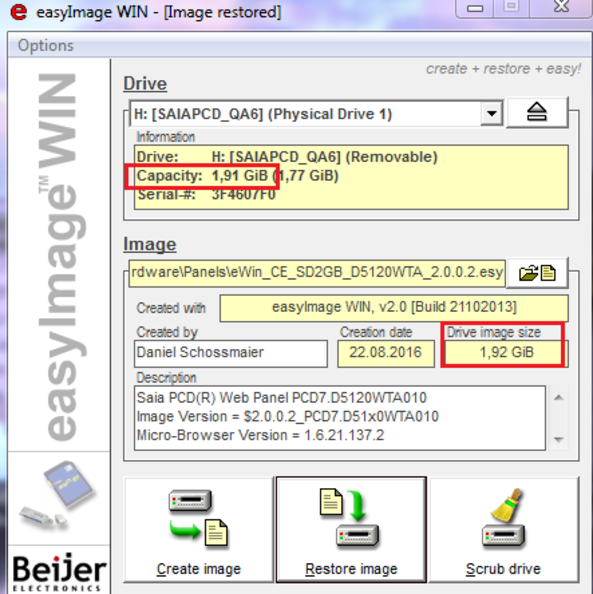 Take the image which match to the SD Card of your device. Find the links to the images below.
Caution:
1. Never remove a SD Card if the system is running. Be sure that the power supply (24 VDC) is removed.
2. Never power on the device in case the SD Card is NOT present.
3. Before you restore an image, be sure that the SD Card is NOT locked.
Links to the images:
"blue SD-Card" = use "eWin_CE_SD2GB_D51xxWTA_2.0.0.2.esy"
"black SD-Card" = use "eWin_CE_SD2GB_D51xxWTA_2.0.1.0.esy"
Categories
PCD7 / D5xxx (Windows CE)
Last update: 18.01.2017 15:28
First release: 12.12.2016 15:48
Views: 3