Communication on serial S-Bus fails while the AutoConfig Output of the Setup FBox stays '1'!
FAQ #101812
L60x Config, L60x Room FBoxes indicates that everything is ok:

The FBox LED is green, but there is no actualisation of the values in the roomcontrollers.

It's not possible to modify any parameter of the L60x controler; setpoint, Occ mode, etc.. as the communication is frozen!

Reason:


Auto Configuration: when the configuration is loaded into a L60x the Register R 126 (ConfigTimeStamp) is writen with a time stamp.
Also in the PCDX.Mxxx master station this time stamp is memorised.
In case a PCD7.L6xx is exchanged on the network, the master station will noticed it and send the configuration automaticaly.


Possible problem:
If the auto configuration option is activated during the powerup and the FBox Configuration isn't enable and the register ConfigTime Stamp (R=126) doesn't containes the same value than the PCD Master station, then the auto configuration tries to load the configuration but can't succeed depending of the station number set in the config FBox.



One possible situation for this behavior could be, if the PCD has no battery and a power off/on happens.
In this situation the program has to be loaded from flash and the DB of the room FBox with the configuration Timestamp would be 0 => not equal to the ConfigTimeStamp of the controller.
Solution:
The problem can be solved with one of the recommended folowing work around:
1) to set in the configuration FBox and in the Rom Fbox the "Auto-configuration" setting to "inactive"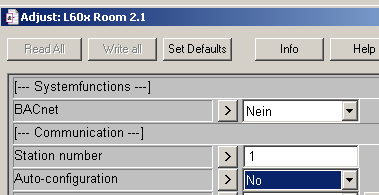 2) or modify only the station number differnt than the station on the bus. For example if the station used are up to 199 choose:



3) or installation of the new FBox library. It will be neccesary to replace manually the FBoxes.
Please use the library Room Controller PCD7_L60x_SP2_6_435 or newer available from our support site!

Remark:
After one of those modification it's necessary to download the program!
Last update: 29.05.2015 11:15
First release: 28.01.2013 08:59
Views: 13159