What are the replacement possibilities for the CXE312 and CXE322?
FAQ #101462
The multifunctional pre-selection counters CXE312 and CXE322 was phased-out starting by the end of August 2010.
Instead of the counters CXE312 and CXE322 the multifunctional pre-selection counters CXQ312 and CXQ322 can be used. These counters have the same functions as the CXE and even some additional ones like:
60 kHz counting instead of 10 kHz
LED Look and multicolour
Extended counting modes
Factors and dividers
Moving average
The dimensions of the CXE and the CXQ are identical, except of the length of the CXQ which is 5mm longer. Compared to the CXE, the CXQ has a more comfortable user interface because a button is available for each decade (and not only 4 cursor buttons as on the CXE).

Picture of a CXQ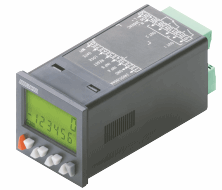 Comparison of features between CXE and CXQ

Categories
CC Control Components
Last update: 28.05.2015 18:29
First release: 15.07.2010 08:09
Views: 1528