Meaning of the LEDs on Profibus DP Master modules and CPUs
FAQ #101271
On our Profibus DP Master modules and CPUs there are two LEDs available:
RUN = Yellow
ERROR = Red
Modules and CPUs
The LEDs RUN=Yellow and ERROR= Red are present on the following modules:
PCD7.F750
PCD7.F7500
PCD3.M654x: On this CPU the LEDs are below the cover. Otherwise you can see them if you open the blue cover that covers the battery-module, M1-, M2-Slot and the RUN Stop/switch. Through the little gap where the cover is cliped in, the LEDs are visible: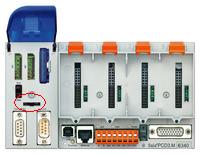 Status of the LEDs:
ERROR LED:
The ERROR LED is switched on for approximately 1 sec during startup. If the module is working correctly the error LED is switched of afterwards. In case the error LED is switched on or blinking the Profibus DP module has a serious problem that is most probably related to the hardware itself.

RUN LED:
The RUN LED is normally blinking after startup. If it is blinking fast (~10Hz), the Profibus communication is not running correctly. In case the Profibus communication works well, the RUN LED is blinking slowly (~1Hz). If the communication is not working properly, more information is available in the history of the PCD. Check the history of the PCD for Profibus DP FAIL errors (see list below for the meaning of these messages). If there is no entry in the history regarding the DP functionality, you can check the diagnostic flags and diagnostic registers. More information about the Profibus diagnostic is available in the manual Profibus DP 26/765. The manual is at the moment not up to date. Only the PCD7.F750 is mentioned. Otherwise most of the information in this manual like diagnostic information is valid for the PCD3.M654x and PCD7.F7500 as well. We are working on a new version.


PROF DP FAIL xxx (or PROF S-I/O fail if Profi-S-I/O is used)
ERR# Description
0 Key word MODE: not found
0 Wrong mode specified
0 Key word CONF: not found
0 DBX key word not specified
0 DBX number error
0 DBX number to large
0 DBX does not exist
0 Key word DIAG: not found
0 Flag or output key word not specified in DIAG
0 Error in address of diag flag or output
0 Range error diag flag or output
0 Register key word not specified in DIAG
0 Range error diag register
1 PROFIBUS-DP HW card not present
2 Error in instruction
3 DBX structure error
4 DBX type not for DP master (no PROFIBUS DBX)
5 FW-DBX version not compatible
6 No IN RING message after timeout on initialization
7 Semaphore error for data exchange (info to PCD support)
8 DBX error: data transfer function not implemented
9 Incompatible PCD7.F750 and PCD hardware
Categories
PCD3 / Mxxx
PCD7 / Fxxx
PG5 2.0 / Profibus DP
Last update: 31.05.2015 16:35
First release: 06.08.2009 12:32
Views: 3826